The 10 most frequently asked questions about Dracal, with answers that simplify your life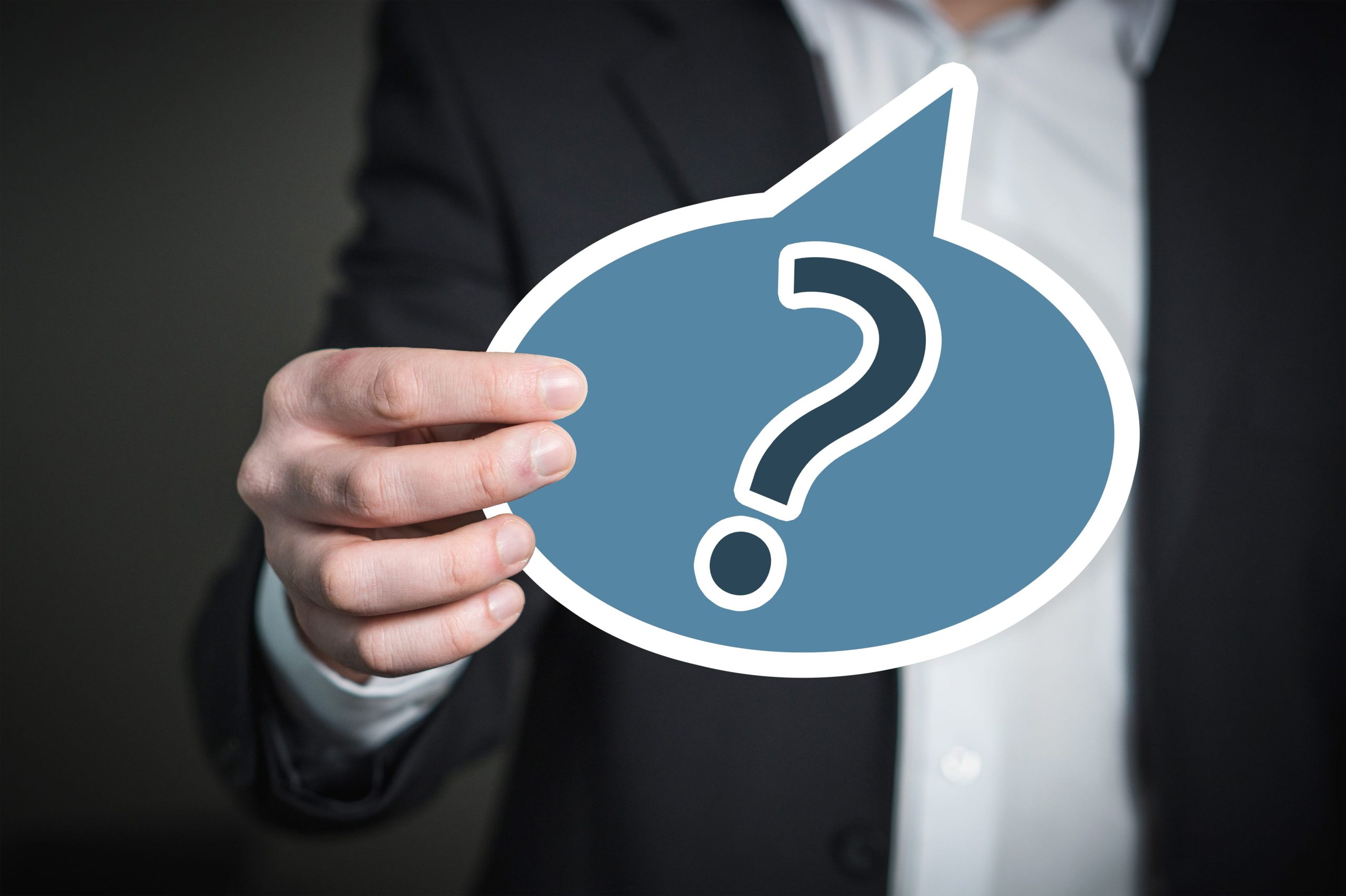 Community members often have common questions when understanding and using Dracal Technologies' products and services. In this article, we will answer our users' 10 most frequently asked questions. From product availability to ISO17025 certification and software features, we will cover various topics to provide clear and helpful answers to our members. Whether you are an experienced user or discovering Dracal Technologies for the first time, this article will help you get the information you need to make the most of our products and services.
1. What is the delivery time?
We commit to preparing orders within 3 business days. The transportation time varies depending on the shipping method (carrier options) and the country.
If you are obtaining a calibration certificate, please allow an additional 10 business days for us to send your instrument to our partner laboratory for calibration and return.
2. Do you have my products in stock?
If the product is displayed as "In stock" and you order 10 or fewer (of the same product), the answer is yes. You will see the availability on the order page, indicated by a green checkmark.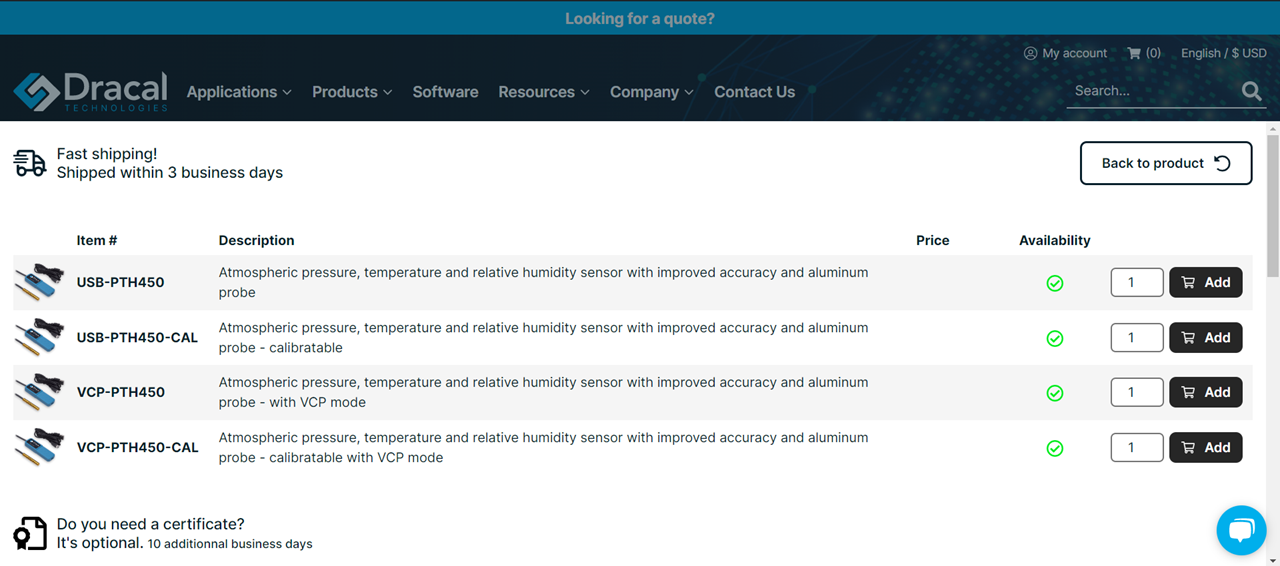 It is still worth asking for larger quantities, although the answer will most likely still be "yes."
3. Where is the barometer located in the PTH series?
The barometer is located in the blue casing (4), while the temperature and relative humidity sensor (2) are at the tip of the probe (1).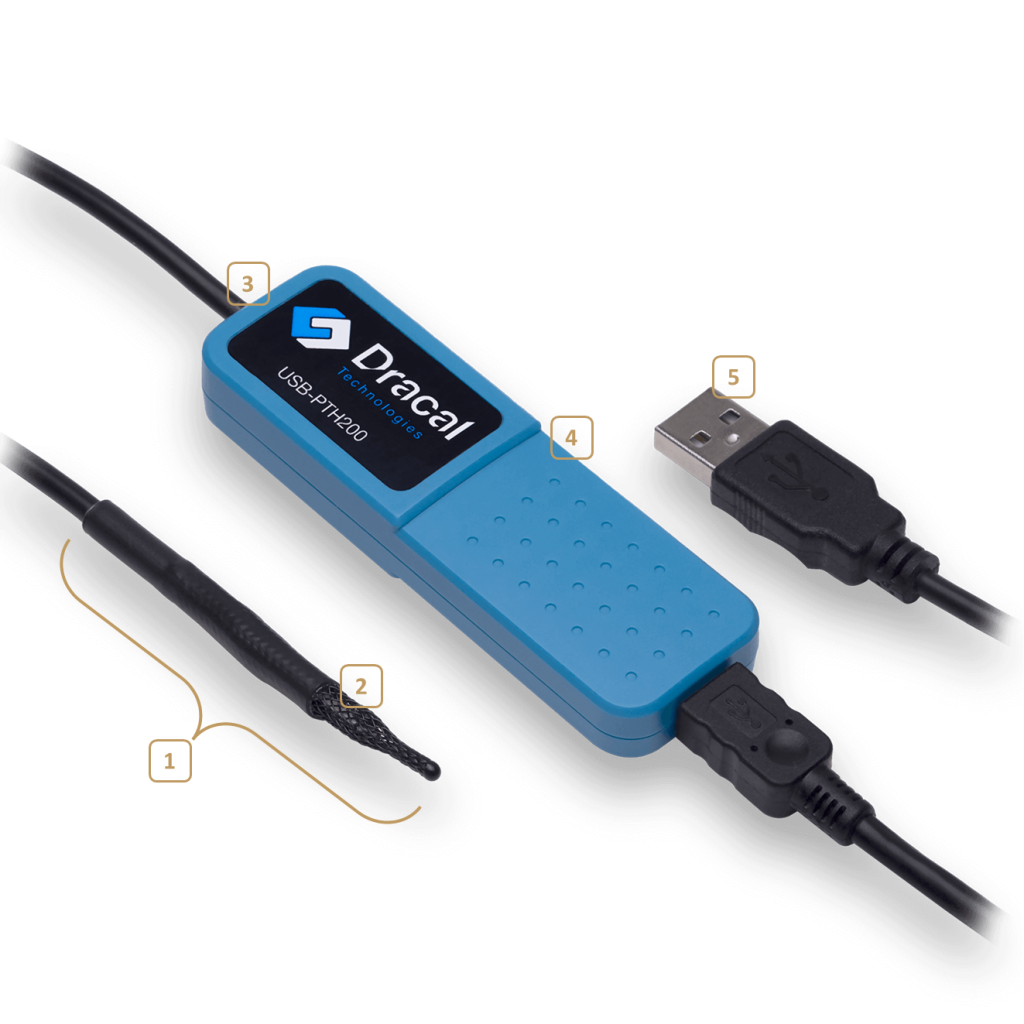 4. Is the ISO17025 traceability certificate included?
No, it is not included since not all our customers require it, but it is available for purchase when you order an instrument.
5. Do I need the VCP option?
If you are not using a system that communicates with the serial communication protocol (COM) if using a third party for data integration is not problematic for your application, or if you have no licensing concerns with third-party software, the VCP mode is unnecessary.
6. How can I pay NET30?
When placing an order, simply check the box "Request NET30 payment access." You will then receive an email with a form to complete and return to us. We will verify the information and grant you access (or not). This one-time procedure will only be repeated for subsequent orders if there is a payment default.
7. Will you stop producing my favourite product?
While innovation and developing new products are essential to Dracal, our commitment to backward compatibility is equally important. You spend a certain amount of time integrating your Dracal sensors, and we want that investment of time to be well-spent. Therefore, we will continue to produce all our instruments for as long as possible.
8. Can I create an alert with DracalView?
Not yet, but as it is a recurring request, our development team is working to add this functionality.
9. Do you deliver to my country?
Yes! We work with several international carriers, which allows us to deliver to all countries. If you have a question regarding required certifications (such as RoHS3), please contact us; we will gladly assist you.
10. Can my instrument be calibrated?
On your instruments, the label displays the model. If your instrument is calibratable and adjustable, its model will end with -CAL. If not, you can still calibrate it to ensure that the readings remain within specifications, but you cannot adjust it to extend measurement accuracy.