Comparison of Temperature Sensors Offered by Dracal Technologies
This Dracal Technologies USB sensor selection guide provides a summary of the main features of each sensor. You will then see a table to help you choose among our 10 USB sensors the one that best suits your application, allowing you to obtain temperature measurements adapted to your project.
Presentation of the features
Here is a brief description of each of the features that will be used in the following table, allowing an at-a-glance comparison of the various Dracal Technologies USB sensors.
Sensor precision

The precision is the smallest difference observed between two measurements when the experiment is repeated under exactly the same conditions. It corresponds to the random error.

Instrument resolution

Resolution is the smallest change detected by the sensor. The smaller the resolution, the more precisely the observed temperature changes.

Probe protection

Many of our sensors are used to measure air temperature and have adequate protection for dust and other particles. Some sensors are used for other purposes and the enclosure around the probe is adapted to these other uses.

Instrument responsiveness

It is related to several factors, including the type of sensor and its protection. The

time constant

(t63%) is a measure of the time it takes for the sensor to reach 63% of its final value. For example, for a sensor that goes from 0°C to 70°C, the time constant is the time it takes the sensor to reach 44.2°C.

Temperature range

The temperature range is the minimum and maximum temperature that can be measured with the sensor. It depends on the probe used and the materials it contains. Thermocouples and RTD probes allow the largest temperature ranges to be measured.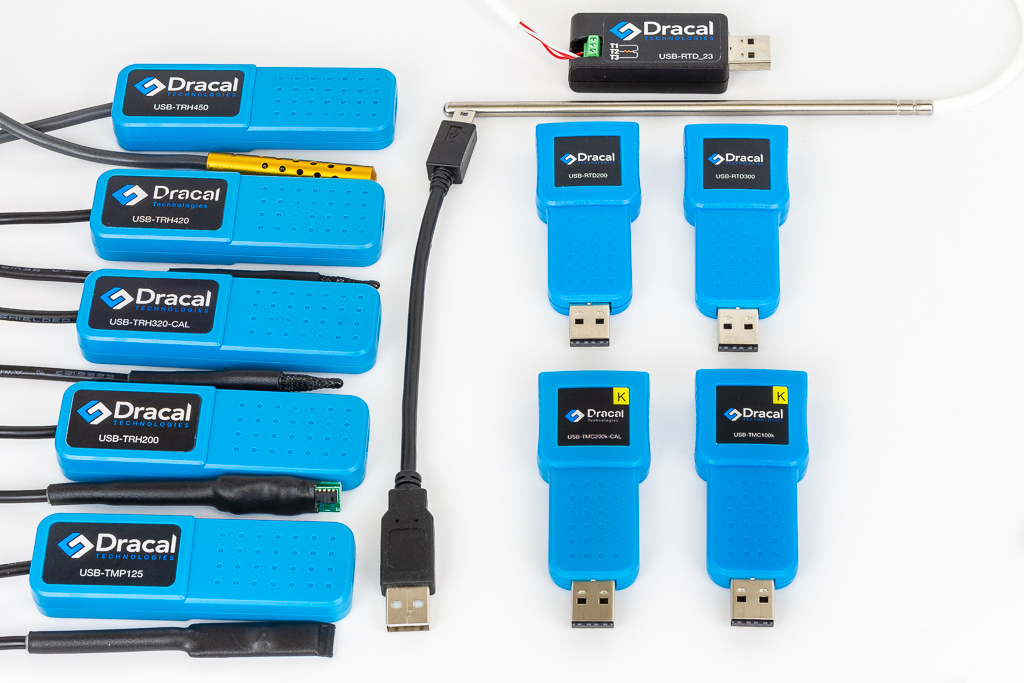 Comparative table of the ten sensors
Below, you will find a table of the temperature sensors offered by Dracal Technologies, grouped by type. The SHT digital sensors are integrated in the product in question. For thermocouples and RTD probes, the products described are universal converters working with the probe, either thermocouple or RTD Pt100, of your choice. We also offer these probes, whose links are available in the table.
Product

Picture

Precision (at 25°C)

Resolution

Protection

Responsiveness (t63%)

Range

Main application

±0.5°C

±0.5°C

watertight casing

8 s

-55°C to 75°C

Air temperature under various conditions

Warehouse, Server room

±0.3°C

±0.015°C

PTFE(1) membrane

PET(2) mesh

8 s

-40°C to 70°C

Precise air temperature

Environmental chamber, Weather station, Physical engineering

±0.1°C

±0.015°C

PTFE membrane

PET mesh

8 s

-40°C to 70°C

Air temperature requiring increased precision

Biomedical engineering, Research

±0.1°C

±0.015°C

PTFE membrane

aluminum casing

8 to 10 s 

-40°C to 125°C

High air temperature and harsh environments

Environmental studies, Material engineering, Vivarium

±0.1°C

±0.01°C

exposed sensor

5 s

-40°C to 70°C

Surface temperature

Material temperature, OEM integration

In combination with our TMC-K-A-5 (Type K thermocouple)

±2.5°C

±0.0625°C

none

instant

-50°C to 200°C

High contact temperature

Industrial processes, Water bodies

±2.5°C

±0.00005°C

none

instant

-50°C to 200°C

High contact temperature and observation of small temperature changes

Pharmaceutical and food processes

In combination with our RTD-Pt100-SIL (RTD-Pt100 probe)

±0.41°C

±0.02°C

stainless steel

5 to 10 s

-200°C to 200°C

Very low contact temperature

Aerospace engineering and robotics

±0.41°C

±0.02°C

stainless steel

5 to 10 s

-200°C to 200°C

Wide contact temperature range and easy connection

Biomedical engineering

±0.351°C

±0.0005°C

stainless steel

5 to 10 s

-200°C to 200°C

Wide contact temperature range and observation of small temperature changes

Biomedical engineering, Certification
Polytetrafluoroethylene

Polyethylene terephthalate
Note that some of these USB sensors can measure something other than temperature! The TRH series offers USB temperature and humidity sensors, while the PTH series adds atmospheric pressure to temperature and humidity measurements. So you can find the instrument that meets all your needs, not only for temperature, but also for relative humidity and air pressure. That being said, if you think you will need to diversify your measurement types in the future, our mix & match system allows you to postpone this project without any additional time investment.
In conclusion
At Dracal Technologies, our mission is to help you advance your projects that require accurate measurement of certain parameters, including temperature. With this selection guide, you will easily find many information to help you choose among our 10 USB temperature sensors. If you have any questions, do not hesitate to contact us.
References
Ball, S., Ibrahim, D., Ramsden, E., Huddleston, C., Wilson, J. S. (2008). Test and Measurement: Know It All. Pays-Bas: Elsevier Science.
Barani, Jan. "Difference between Sensor Response Time and Sensor Time Constant τ (Tau) 63.2%." BARANI DESIGN Technologies, May 7, 2019. https://www.baranidesign.com/faq-articles/2019/5/6/difference-between-sensor-response-time-and-sensor-time-constant-tau.
Mekid, S. (2021). Metrology and Instrumentation: Practical Applications for Engineering and Manufacturing. Royaume-Uni: Wiley.