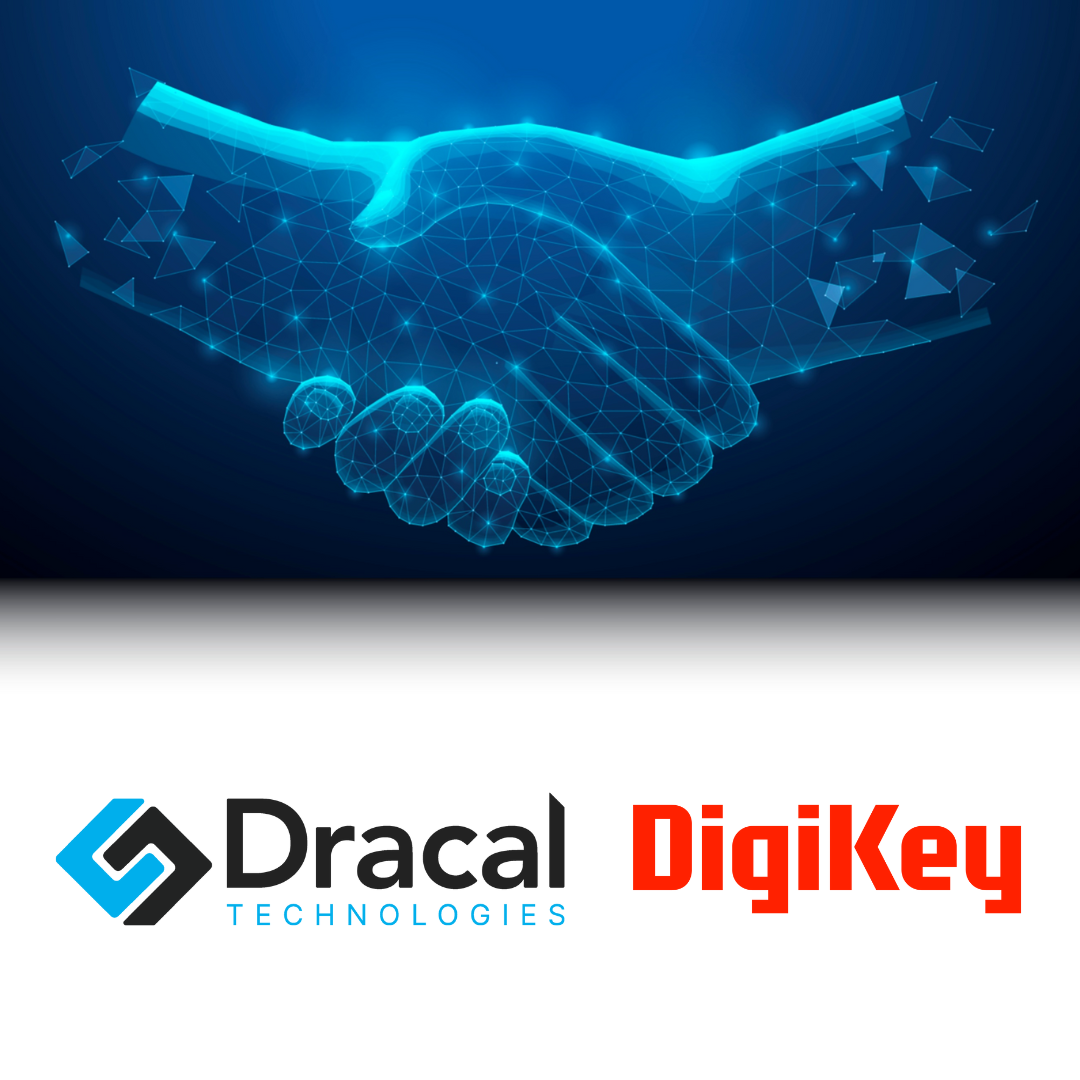 PRESS RELEASE – FOR IMMEDIATE RELEASE
Dracal Technologies and DigiKey Establish Strategic Partnership to Ensure International Distribution of Measuring Instruments
Brossard, Quebec, Canada, August 30, 2023 – Dracal Technologies enters DigiKey's international distribution network with pride and determination. DigiKey is one of the world's leading distributors of electronic components, primarily for engineers, representing Dracal Technologies' core market.
"Thanks to DigiKey's extensive distribution network, our customers will benefit from shipping in less than 24 hours," said Ariane Garon, president and CEO of Dracal Technologies. "Plus, since many customers already purchase hardware from DigiKey, it simplifies their buying process by requiring only one visit to a website."
"To meet a growing customer base, we are constantly looking for reliable manufacturing partners offering complementary solutions to our existing offerings," says Missy Hall, vice president, new market development at DigiKey. "DigiKey offers a wide range of products, from electronic components to complete systems, and Dracal Technologies' measuring instruments enrich our data acquisition systems (DAQ) offering, as the solution offered is unique in the market."
To meet a specific data acquisition need, Dracal Technologies offers measurement instruments that stand out in a market where such solutions are rare. Their comprehensive approach, combining instruments and software, facilitates the rapid and near-instantaneous deployment of USB data acquisition systems. With their autonomy, modularity, and ability to integrate seamlessly with existing systems, Dracal Technologies' solutions open new possibilities for optimizing data measurements.
About Dracal Technologies Inc.
Founded in 2011 in Quebec, Canada, Dracal Technologies specializes in advanced electronics and software development. They aim to make precision data more accessible by removing barriers and providing simple and reliable solutions. Their highly skilled team works to create a precision measurement ecosystem based on USB technology, offering quality, accurate and readily available products. Dracal Technologies is committed to data sustainability, adaptability, and harmonisation, focusing on customer satisfaction and excellence. Their goal is to simplify the work of scientists and engineers to accelerate progress. www.dracal.com
About DigiKey
DigiKey, headquartered in Thief River Falls, Minn., USA, is recognized as the global leader and continuous innovator in the cutting-edge commerce distribution of electronic components and automation products worldwide. We get technical by providing more than 14.9 million components from over 2,400 quality name-brand manufacturers with an industry-leading breadth and depth of product in stock and available for immediate shipment. DigiKey also supports engineers, designers, builders, and procurement professionals with a wealth of digital solutions, frictionless interactions and tools to make their jobs more efficient. Additional information can be found at  digikey.com and on Facebook, Twitter, YouTube, Instagram and LinkedIn.