Wires Covered with Silicone or PVC: Which is the Better Choice?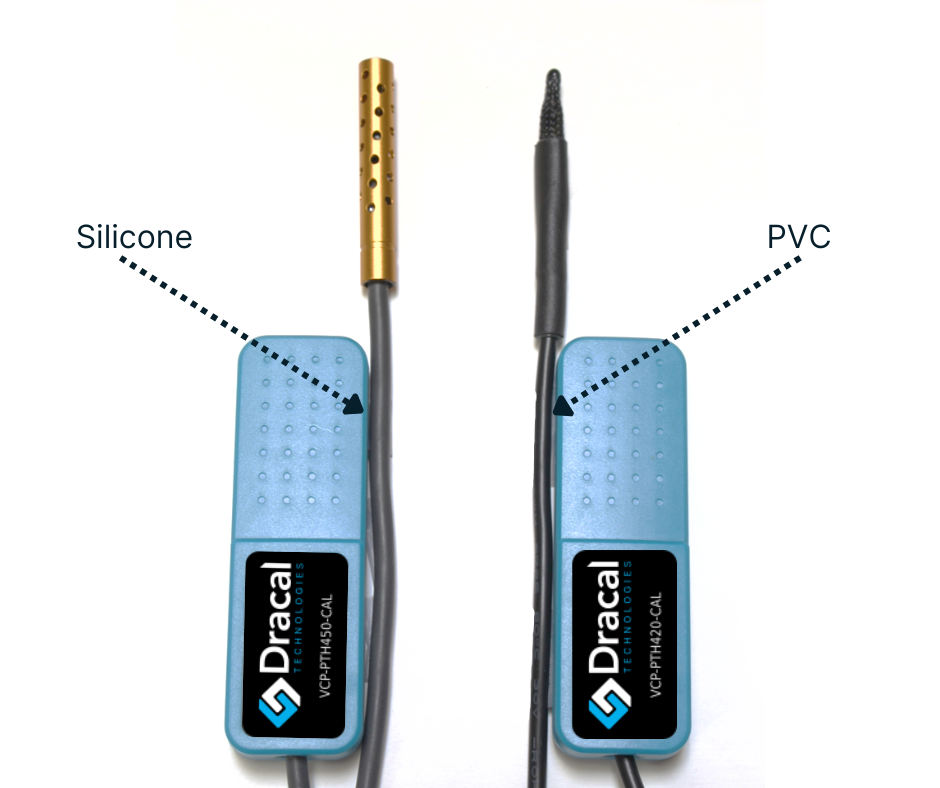 Our TRH (temperature and relative humidity sensors) and PTH (temperature, relative humidity and atmospheric pressure sensors) instrument series offer an aluminum-covered sensor connected to the housing by a silicone-covered cable (TRH450, PTH450). Beyond this additional sensor protection, how does using a silicone cable contribute more to the robustness of these products?
| | | |
| --- | --- | --- |
| | PVC-Coated Cables | Silicone-Coated Cables |
| Temperature range | -20°C to +70°C | -50°C to +200°C |
| Flexibility | Good flexibility at normal temperatures | Excellent flexibility, even at low temperatures |
| Chemical resistance | Moderate resistance to certain chemicals and oils | Resistant to oils, solvents, chemicals, and UV rays |
| Electrical insulation | Provides basic electrical insulation | Excellent electrical insulation properties |
| Fire resistance | Moderate flame retardant properties | High flame retardant properties |
| Compression resistance | Moderate resistance; may be damaged after compression | Excellent continuous compression resistance |
| Mechanical strength | Excellent resistance to mechanical stress | Moderate resistance to mechanical stress |
| Applications (examples) | Commonly used in building wiring, electrical distribution, appliances, and versatile electrical applications | Suitable for high-temperature environments and outdoor uses (e.g., solar panels), aerospace, automotive, industrial machinery, and electrical equipment |
When choosing between silicone-coated and PVC-coated cables, it's essential to consider the application's specific requirements, such as temperature range, environmental conditions, mechanical strength, and budget constraints, as silicone-coated wires tend to be more expensive. Each type of cable offers distinct advantages and disadvantages, allowing you to select the option that best suits the intended use.
A dedicated article is available if you want to learn more about the robustness elements of Dracal products. Additionally, we have created a comparison table for the TRH series regarding different probes and their protection if you wish to explore this specific aspect of robustness.