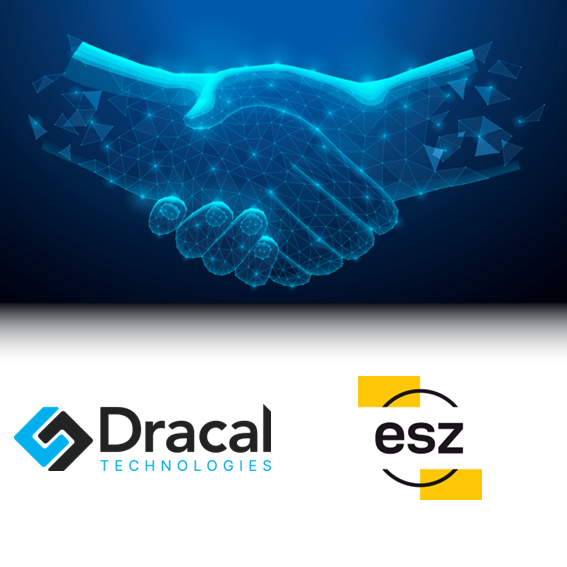 PRESS RELEASE – FOR IMMEDIATE RELEASE
Dracal Technologies partners with esz AG, Germany, for the calibration of its precision USB sensors
Brossard, Quebec, Canada, December 20, 2022 – Dracal Technologies is pleased to welcome esz calibration & metrology, Europe's largest independent calibration laboratory, as an accredited partner to support its customers in Germany and throughout the European Union. The two companies have entered into an agreement whereby esz AG will support Dracal's customers in their calibration and adjustment needs, from assessment of their needs to invoicing.
The use of precision measuring instruments in demanding industries is often associated with the need to comply with the requirements prescribed by well-established normative bodies, such as the ISO (International Organization for Standardization) standards, for example. In order to meet these requirements, calibration, adjustment and certification of measuring instruments are part of the recurring tasks that must be performed by the vast majority of precision instrument users. This is why Dracal Technologies accredits partners who meet its high-quality standards.
"This partnership with a renowned laboratory such as esz AG allows Dracal to offer its customers in the European Union the guarantee of having access to a highly competent resource to help them meet their requirements and maintain an optimal level of performance for their Dracal environmental measurement instruments" explains Ariane Garon, member of the board of directors and CEO of the company. She adds: "this partnership is an opportunity to strengthen our position in Europe, while reminding our customers that regardless of frontiers, we are always looking out for them and the success of their projects".
"We are very pleased that Dracal Technologies has chosen esz AG calibration & metrology as its partner in Germany and Europe. With decades of experience as a calibration and service provider, we offer Dracal customers a high-quality level of service," said Daniel Herrmann, managing director of sales and marketing at esz AG. "The partnership expands our technical knowledge of Dracal's solutions and strengthens our position as a calibration and maintenance specialist in Europe."
About Dracal
Founded in 2011, Dracal Technologies is a Quebec (Canada) based company innovating in the field of advanced electronics and software development. For the past 10 years, they've positioned themselves as facilitators in the field of precision data acquisition. Their highly qualified team is driven by a desire to eliminate all barriers to the implementation of simple or complex projects for which precision data is required. Simple, robust, precise and accessible, Dracal's USB sensors and measuring instruments have been adopted in more than 35 countries (and counting), and they've been used in an impressive array of industrial, technological, scientific and academic projects. www.dracal.com
About esz
esz AG calibration & metrology (www.esz-ag.de) is one of the leading and most modern metrology laboratories in Europe. The focus of its work is the calibration of industrial measurement technology. Customized solutions, a large portfolio of services and cost transparency are the hallmarks of esz AG. For more than 45 years, well-known, globally operating companies rely on the professionalism of the calibration laboratory headquartered in Eichenau near Munich. With more than 200 accredited metrologies from all technical fields, esz AG is one of the largest independent metrology laboratories in Europe. The calibration service provider from Eichenau near Munich is continuously developing this portfolio. www.esz-ag.com