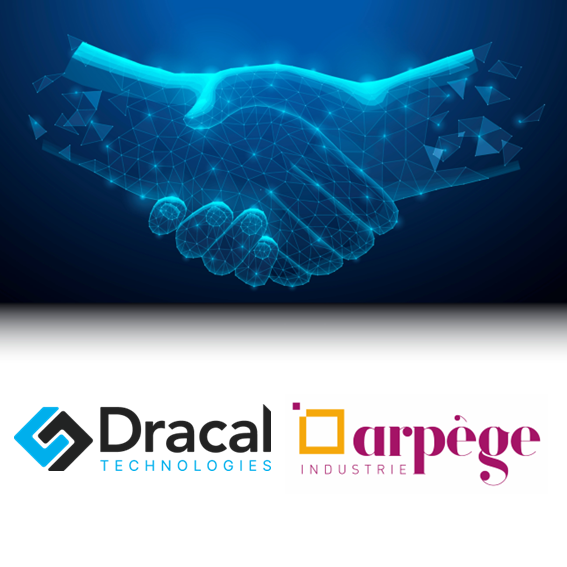 PRESS RELEASE – FOR IMMEDIATE RELEASE
Dracal Technologies and Arpège Industrie sign a nationwide France distribution partnership
Brossard (Quebec, Canada), December 1, 2022 – Dracal Technologies has entered into a partnership agreement with Arpège Industrie making the latter an official representative of the Quebec company on the French territory. Thus, any French customer will now be able to call on Arpège Industrie to purchase USB precision measuring instruments from Dracal Technologies.
"Arpège Industrie is a long-standing partner, and we are delighted to expand our collaboration," said Ariane Garon, President and CEO of Dracal Technologies. "This partnership will allow us to offer a service more adapted to our French customers, while consolidating our presence in this market.".
"We are very proud to be the Quebec company's first distribution partner in Europe," adds Philippe Ramon, President and founder of Arpège Industrie. "Dracal Technologies' Plug&Log solution for precision measuring instruments has been part of our portfolio for a long time, and the formalization of our collaboration makes us a reliable resource in this area."
About Dracal Technologies
Founded in 2011, Dracal Technologies is a Quebec-based (Canada) company that innovates in the field of advanced electronics and software development. For 10 years, Dracal has been offering products and software that facilitate the acquisition of precision data. Its highly qualified team aims to remove any obstacle to the realization of simple or complex projects involving precision data. User-friendly, robust, accurate and accessible, Dracal's USB sensors and measuring instruments have been used in more than 35 countries so far, in an impressive number of industrial, technological, scientific and academic projects. www.dracal.com
About Arpège Industrie
Arpège Industrie is a French company expert in specialized purchasing. It supports companies of all sizes on a daily basis (VSEs, ETIs, SMEs, industrial groups) in several sectors of activity. The selection by Arpège Industrie of reliable suppliers for the manufacture of a product or sub-assembly is a strategic purchasing mission because the solutions chosen have a decisive impact on the cost of the finished good (human and machine time). Arpège Industrie helps to optimize the performance of its customers (supply, logistics) and obtains proposals from French, European, or international suppliers in line with their projects. http://www.arpege-industrie.com